Red Ribbon Week - October 24th - 28th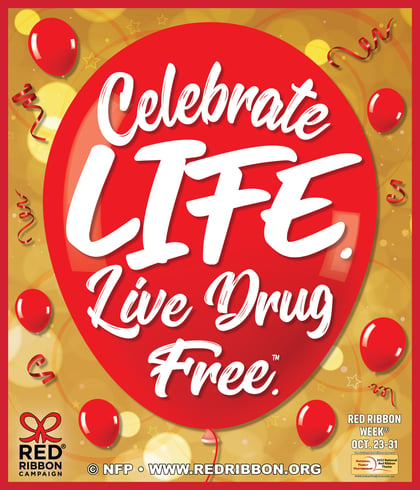 The National Family Partnership (NFP) unveiled its 2022 National Red Ribbon Week Theme, Celebrate Life. Live Drug Free.™. Created by Emily King, Chelsea Abbott, and Celise Wicker, 7th graders at Wayland-Cohocton Middle School in Wayland, New York, the Theme is a reminder that everyday Americans across the country make significant daily contributions to their communities by being the best they can be because they live Drug-Free!
Each year, the National Family Partnership sponsors the Red Ribbon Week Theme Contest, which invites Americans across the country to submit a unique slogan that captures the essence and mission of the campaign.
Here's what we have planned for the week:
Upcoming Events
Thursday, March 30
Friday, March 31
Monday, April 3
Tuesday, April 4